Wherever you are, we ship a Manta
Carriage worldwide is free by Royal Mail™

If you require a courier instead, we provide a flexible courier service, below

Tracking is used when available (it usually is)

We normally ship within 48 hours, delivery is fast, free delivery of non-UK/EU orders depends on speed of the local postal service
The Manta MS9 is £125.00 carriage included
You can pay with a credit/debit card or your PayPal account Either way, your transaction is protected by PayPal's Secure Gateway. At no stage do we have any access to your card or account details
A PayPal account is not required

If you prefer, you can pay by bank transfer but please ask first and we'll send the details you need

In the UK you can pay by cheque (to Manta Design Ltd), there will be a modest clearance delay before we can ship
Manta MS9 product details:
Weight 0.750 kg

Total length (front to back): 25.0 cm

Maximum width (longest lever): 37.0 cm

Minimum width (shortest lever): 25.0 cm

Maximum depth: 10.0 cm

Colour: satin black with a bronze hue

Principal materials: shot peened spring steel rail, polypropylene levers and pivot rail, silicone rubber grip tubes

Downward adjustment of seat pin: 8 cm approximately. (For guidance only. Please see setup instructions)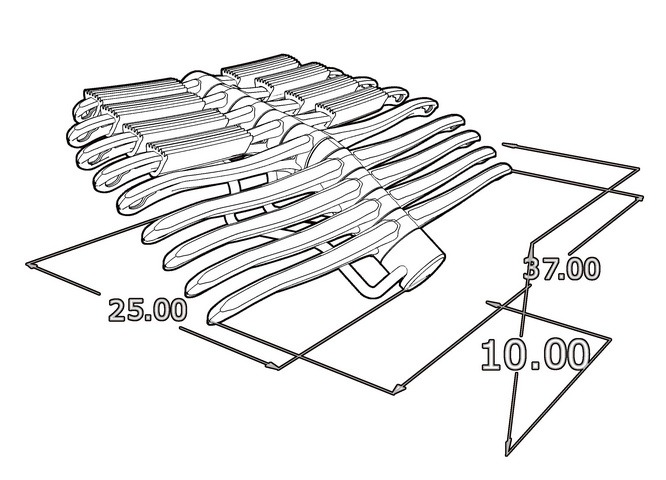 Free UK Delivery: Royal Mail™ First Class Special Delivery® in the UK

Free Worldwide delivery: Royal Mail™ International Tracked®
1 x BLACK MS9 Total: £125.00
---
---
Courier Option TNT, UPS, DHL, ParcelForce, DPD, FedEx (chosen for service)
ZONE ONE – in the drop down list of countries below

ZONE TWO – every other country (ROW)
ZONE ONE – drop down list
PLEASE PRESS HERE!
Countries in shipping ZONE ONE
EU, EFTA, and countries in the same zone listed here
Austria
Belgium
Bulgaria
Canada
Croatia
Cyprus
Czech Republic
Denmark
Estonia
Finland
France
Germany
Greece
Hungary
Iceland
Italy
Ireland
Japan
Latvia
Liechtenstein
Lithuania
Luxembourg
Malta
Netherlands
Norway
Poland
Portugal
Romania
Russia
Slovakia
Slovenia
Spain
Sweden
Switzerland
UK
USA
ZONE ONE ~ courier to countries in the above list
1 x BLACK MS9 £125.00 + £19.80 express shipping ~ total = £144.80
---
ZONE TWO ~ courier to the rest of the world

1 x BLACK MS9 £125.00 + £28.50 express shipping ~ total = £153.50
---
Can we assist you? contact MANTA here:
---