No pain no pressure no sweat
The manta ray shares its dynamics with the saddle, so it seemed like the right name.
Manta Design is a small Scottish company tackling the big cycling challenge: Comfort.
Manta Design's initial development was on Skye, an island off the Scottish West Highland coast. Quite a challenging cycling environment.
"The bicycle is sublime fun and a supremely efficient transport machine. This was motivation enough to seek a solution to traditional seating, which is more or less a padded plank." – something had to be done.
An early Manta saddle has travelled 50,000km around the world, with Dominic Luther. The design won Best Design of 2011. Dundee University, IMAR research comparison found the design significantly outperformed a wide range of saddles.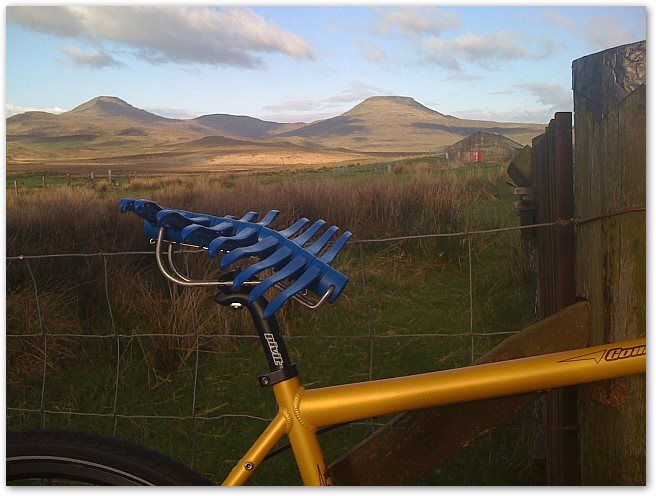 The idea for the Manta saddle followed some time after Jon moved to Skye in the late 1990's. Motivation, and time to tackle cycle seating followed after an amazing job, building hill paths, finished (leaving Jon a little worse for wear because from organophosphate exposure while working on a house, the Cuillin hills). The prototypes required plenty of time and space to develop, especially design for manufacture, due to the complexity of the required forms in motion. Form follows function.


"I had long been dissatisfied with how saddle pain impacted on endurance ...the legs are good for more miles, the backside isn't. I just had to find a better way to support the human body on a bike.


Existing comfort saddles were not very comfortable in reality, because they are compromised, that was no good. The priority wasn't for a temporary perception of comfort but an absence of long-term, and increasing pressure. The design problem needed turning on its head."

Mock-ups of what Jon thought could work (some available on the market) led to prototypes, which began to show promise. Then there was a breakthrough.

A new company to house the design, Manta Design was built, a requirement of working with NESTA, they wanted mass demonstrations to produce paperwork, instead, we headed into product development for manufacture, mainly in-house but with assistance from friends, and working with DuPont's excellent product development department, then off to Taiwan, and back to Protomould in Fife. This process took about 8 years including all changes, with varied testing, and lots of delicious money.


"What kept me going was a ride like a sofa, plus increasing evidence about damage conventional saddles cause to soft tissues. A conventional seat 'nose' was clearly where it shouldn't be - conventional saddles are not suitable for human anatomy. They are just wrong. The mission is to get old saddle designs left in the garage."
The Manta is developed, manufactured, assembled and shipped from Scotland (and a few other countries so far), worldwide.
Manta Design Ltd [Reg. 04399997 VAT: GB939610796] Manta Design Scotland Ltd [Reg. SC0355993] 5-6 Herebost
Dunvegan
Isle of Skye
Western Isles, IV55 8GZ
Registered Office:
Smugglers Cabin, Rattle Street
Gorran Haven,
St. Austell
Cornwall, PL26 6JQ
MANTA Terms & Conditions, and MANTA Privacy Policy