We've been asked: are eBay "MantaB's" the same as
production MANTA's?

They share form and function, the design is the same, however, the 'MantaB' materials were rejected, due to unexpected brittleness, we considered the parts unsuitable for normal road use, but OK for indoor exercise bikes or demo models – if fully supplied with replacement parts – see below. The B-grade stock was released on this basis.
Apart from the material differences, many details are changed in the latest MANTA models, you always get the latest and greatest from us.

---
Supported Outlets:
Unified Sport (US) MANTA, MANTA Cycles (worldwide) & Germany/Europe below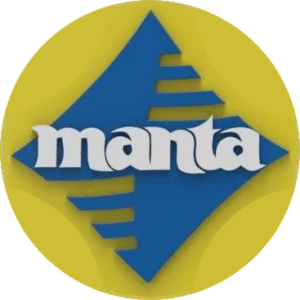 ---
The bottom line is, we believe no static bike should be without this design. It is just that, on the road, those MantaB's can randomly break, they are basically less likely to last in normal, outdoor use. Purchasers should be able to expect rapid spares supply. We don't want to see broken "B" saddles out there, and we cannot see there's enough income trading in this way to continue providing ongoing support, and 300+ free kits of spares were refused. So, what's the motivation, these are our concerns (our "narrative").
---
---
Soft-Grip™ was designed for MANTA saddles, they were formed from a specific design perspective. They evolved rapidly in detail, and are unique to the MANTA. They are much better than the neoprene tubing they replaced, which was a compromise from the prototype days. Nothing better existed. It is peculiar to try to claim this is otherwise.
The first replacement was a tough and soft silicone tubing, which was then developed from 2017-2018, into the Soft-Grip, and improved for 2019. It is grippy, cushy, bulletproof, and thanks to the subtle, 2019 update, occasional rotation was resolved.

"The MANTA is a great saddle", says the eBay Seller. We agree, and all MANTA design saddles are comfortable, it's what they are.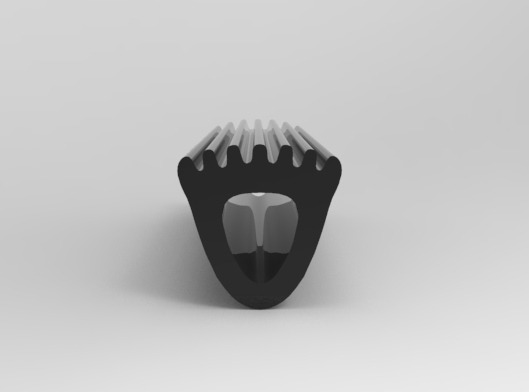 MANTA's 2018 Soft-Grip™ pre-update, really good, tough, soft, grippy, this was altered for 2019-on.
Soft-Grip™ on top, elements are bronze-black, our most resilient polypropylene, now we buy it ourselves.
Neoprene Tube, the elements are pitch-black, parts rejected because of the unexpectedly brittle material.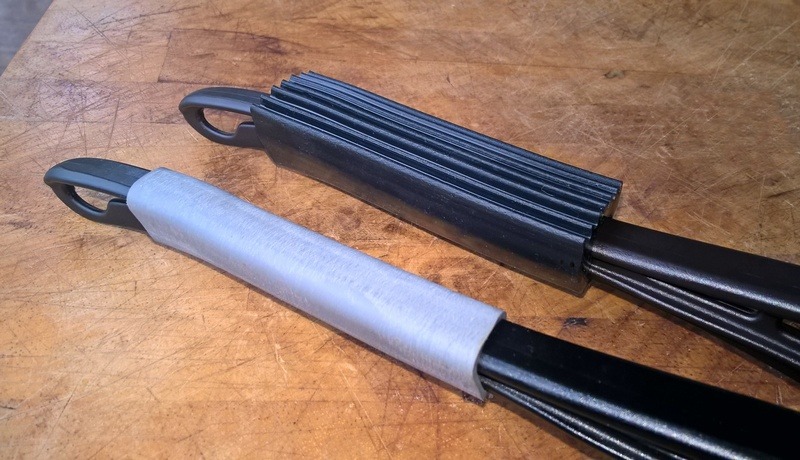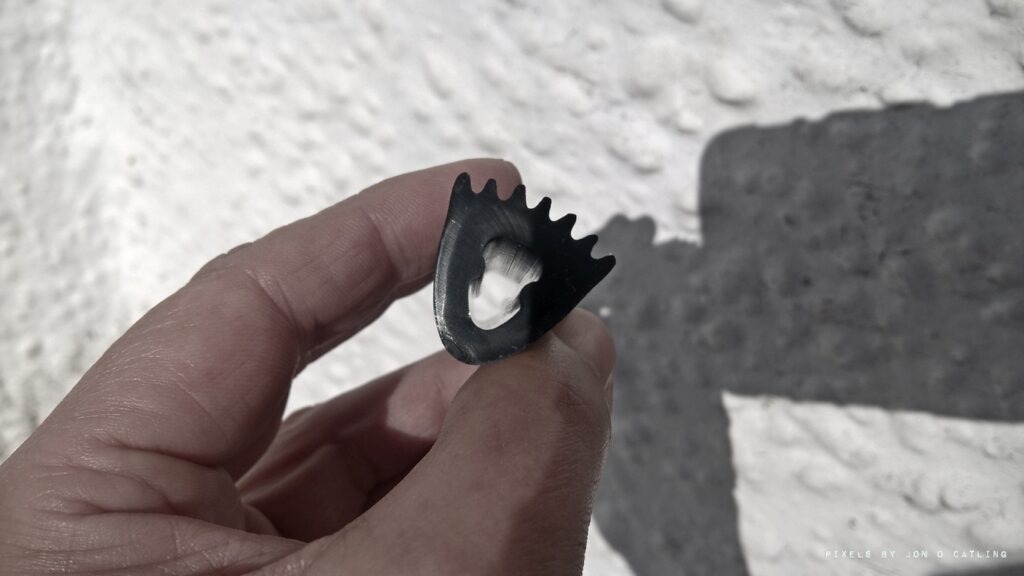 Soft-Grip™ unique to the MANTA, the 2019 detailing, inside, giving an excellent grip onto each element.
The main body and elements are now produced in an fresh grade of polypropylene, light and strong – PPHP P NAT N AS MFI 35 – RAL8022 black, and with bronze highlights (to differentiate).
---
Below: two, rearmost elements, Soft-Grip™, visual comparison with Neoprene tubing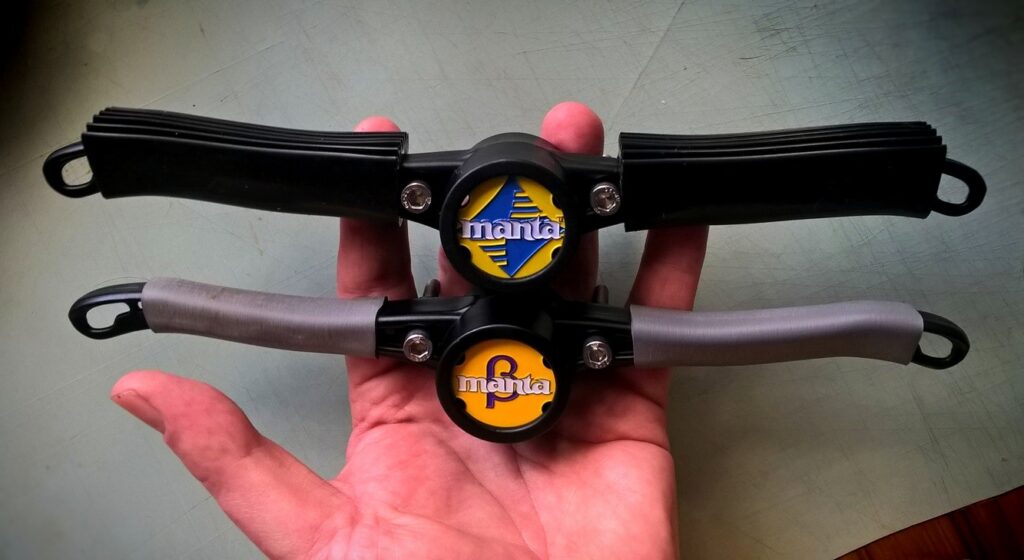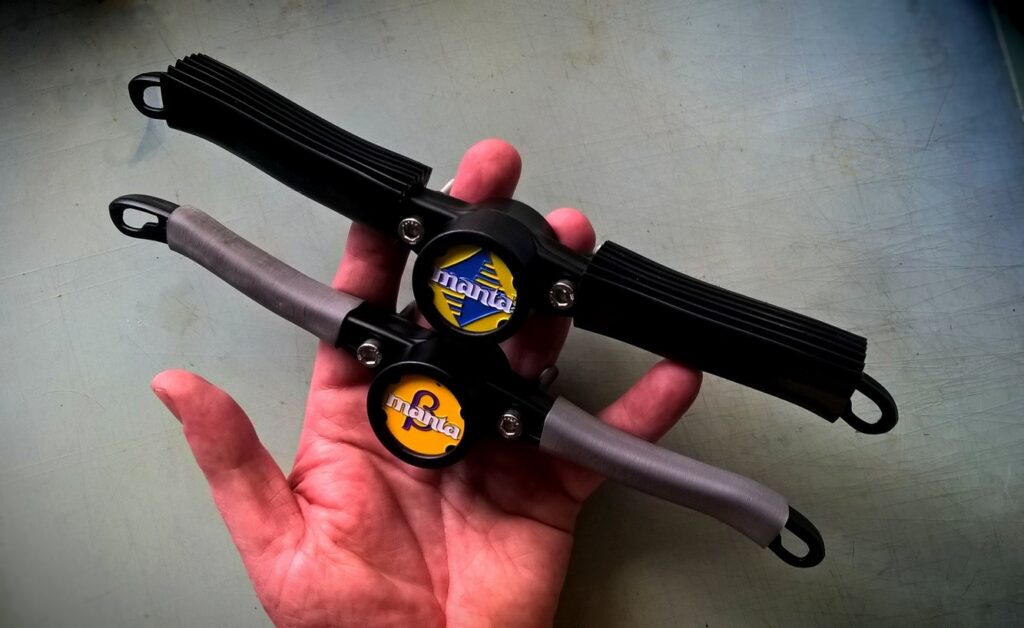 Support Innovators | Feed Product Development