Ralph Brown is an actor (Withnail & I, The Crying Game, Amistad, Life On Mars, Aliens3 and many others), screenwriter and award-winning playwright. He also rides a Manta saddle and took it on the sponsored Ghana Cycle Challenge, 2011. We interviewed him to find out if the Manta made a difference. It did.
What was your motivation for taking on the Ghana Cycle Challenge
I felt that my life was essentially a soft life. I had all I needed, and I still wanted more of course but I didn't need any of it. To be made aware that people still don't drink fresh water and have to carry it in buckets on their heads awoke a feeling in me that the world was terribly unbalanced and that I had been lucky enough to live on the uptown end of things all my life. It was time to pay back.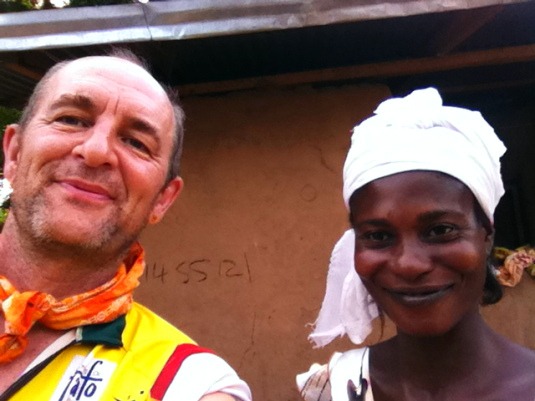 What preparations did you make before travelling to Ghana?

I pulled my bicycle out of the garage and took it to the shop for a service, and started taking it out around Brighton where I live. The Downs are immediately behind my house so I was cycling to Lewes, along the coast to Worthing and Littlehampton and later in Los Angeles on a rented bike. I was sent a Manta MS9 saddle and I thought it looked pretty odd, but had it attached to my bike immediately.

I cycled long distances when I could. In LA I was cycling from Venice Beach down the South Bay to Torrance – 17 miles – and back, all on flat cycle path, but in 80 degrees so I felt it was some preparation. But when we started cycling in Ghana, I was soon out of my depth with the sheer amount of hills.

Did you use any specialist equipment to help you through?
If the Manta is specialist equipment then yes, but I don't see it as such. It's just the next level. We would get on to the bike at 7.30am when the day was cool and cycle until lunch around midday (with a couple of water/banana/peanut stops) by which time we were exhausted, broken and in dire need of food and shelter from the sun. The saddle is comfortable and has no pressure point, and it also allows air circulation around the hind quarters (bonus!) so my most pressing problem was my bruised right palm and the bike itself, which did not have raised handlebars or allow for same.



What do you see as your biggest achievement throughout the experience?
Reaching my limit and going past it every day, using mental strength and forcing the body to carry on. The hill on the last day was troubling as by then my hand was fu****, so I was proud of staying in the saddle on Day Six.



How did [film producer] Louella Hamer find the Manta from a woman's perspective?
She did say on Day Three that the saddle was the only part of her bike that she was happy with, and I felt the same way – my gears, handlebars, brakes and wheels were all poor.



What did you both think were the benefits of using the Manta saddle?
All of the rest of the group were passing round cream for their sore backsides, wearing nappies and generally coping with the extreme discomfort that comes from being in a standard saddle for seven to eight hours a day, with the resulting sores and friction points. Louella and I had no such issues and we did try not to gloat. I didn't wear padded shorts at all – didn't need them.