We were asked if the 'MantaB' on eBay is "about the same"
as a current MANTA …well, no


1) We've been patient, but despite the eBay seller's well-written fantasy story, the MantaB is not "genuine Manta stock", it is rejected stock. We (and the seller*) binned thousands of the most fragile parts, and MANTA had no plans to sell the rest – hence they are being sold off elsewhere – and should be described as suitable 'for restricted use, or demonstration, trial' – if only to avoid causing damage to the production quality product, and our company's reputation.
2) The parts were recalled as soon as we became aware there was a problem with the batch's material.
3) They are suitable for static exercise, training bikes – low impact use – we suggested that this should be made apparent to potential customers from the off (no static bike should be used without a Manta), and reiterated the advice. The reaction was to double down on the misinformation, amongst other things.
3b) Seller wanted the stock, with 'eyes wide open', and should know all about this batch's random test failures having been a director* at the time (after we tried, but couldn't work with him, he left …sharply). He wanted to market appropriately. But, maybe, underestimating the task of selling a substandard version of a radical saddle.
4) Most of our materials are all-new, and the construction detailing has been upgraded.
4a) Soft-Grip™ was designed specifically for the application – nothing like it existed – it is a unique design itself, better than off-the-shelf neoprene tubing. It is revealing to suggest otherwise.
4b) Neoprene tubing, which he implies is 'the latest', was barely adequate back in 2009, it was quickly replaced in 2010 with a soft but tough plain silicone tube – this developed over 2018-2019 into the ultimate Soft-Grip™.
4c) The seller has never ridden.
5) Both products are the same basic shape of course – however the MANTA remains in one piece – it is more usable, and more comfortable.
We agree with the seller that: "The Manta is a great saddle."
A MantaB will be comfortable

, but we don't expect the batch to withstand much 'normal' cycling without extra care – maybe not such a bargain – depending on the application.
---
Our 'statement' for the record: we've tried to ignore the eBay 'MantaB' seller, hoping a year is long enough for them to get themselves together, it's not happening. Instead, because of increasingly hostile and misleading behaviour we now feel we should set the records straight. Google is also a very public place to find unjustified defamatory remarks – and we're not comfortable about why they would be using eBay/Google to do this – and to sell at a loss. Their page pushes misinformation about our design, misinformation which is likely to provide customers with disappointment. We cannot see how customers can expect support for very long (2-300 kits of free spare parts were turned down, other parts were not collected). This apparent 'market joyriding' has the potential to cause MANTA damage, as well as to their own sales. Going by the content of the seller's 'statement', the intention seems to do damage to MANTA, our company – less so the design – we don't quite know what the motivation behind all this is.

We maintain the lowest price for the production model – with the latest technology and updates, with the highest quality with the designer's support – by supplying direct to the customer.
MANTA guarantees all parts for 3 years. It is unique, fully optimised ergonomic cycle seating, and the only saddle with a natural seating area. We're proud of our design, and we support the product, from the design's origin, onward.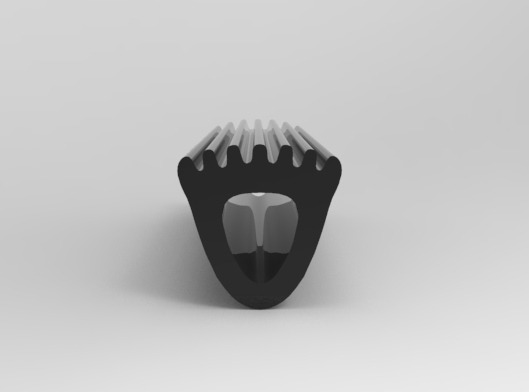 MANTA's unique design, 2018 Soft-Grip™
Silicone grip, designed for 2018 (updated due to occasional rotation) perfected for 2019.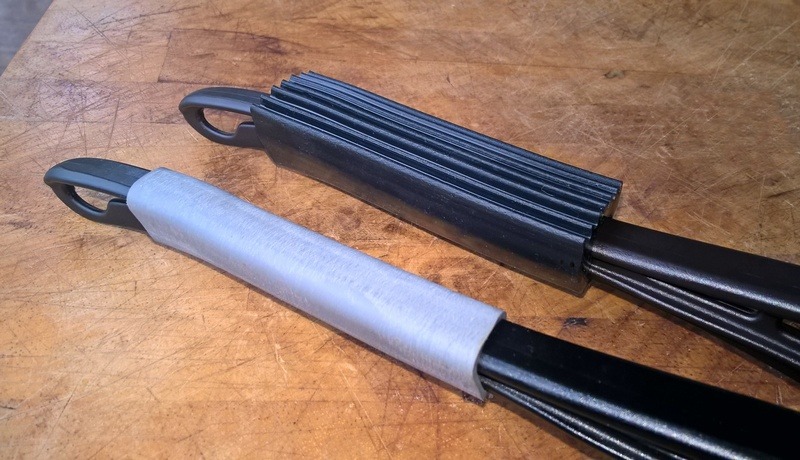 Grey neoprene from 2016, and the latest 2019 Soft-Grip™, a big difference in performance, longevity and feel.
Soft-Grip™ at the top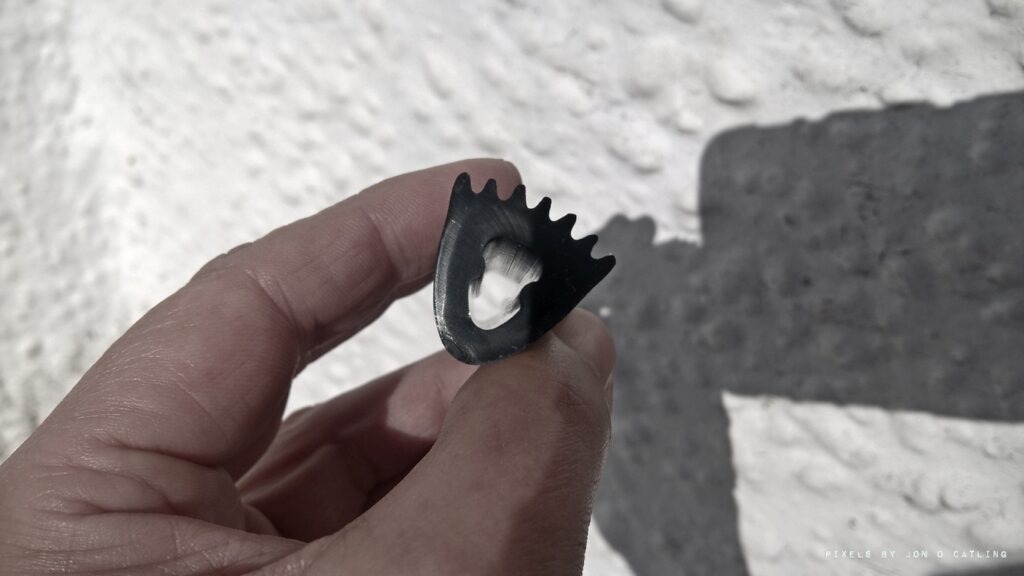 2019 Soft-Grip™ – unique to MANTA – the little bumps inside, equate to a perfect fit, and no rotation.
The body and elements are produced in a new grade of polypropylene, light and strong PPHP P NAT N AS MFI 35. RAL8022 Black-bronze highlight.
---
Below: 2 upper rearmost elements, black 2019 Soft-Grip™, comparison with older B-grade grey tubing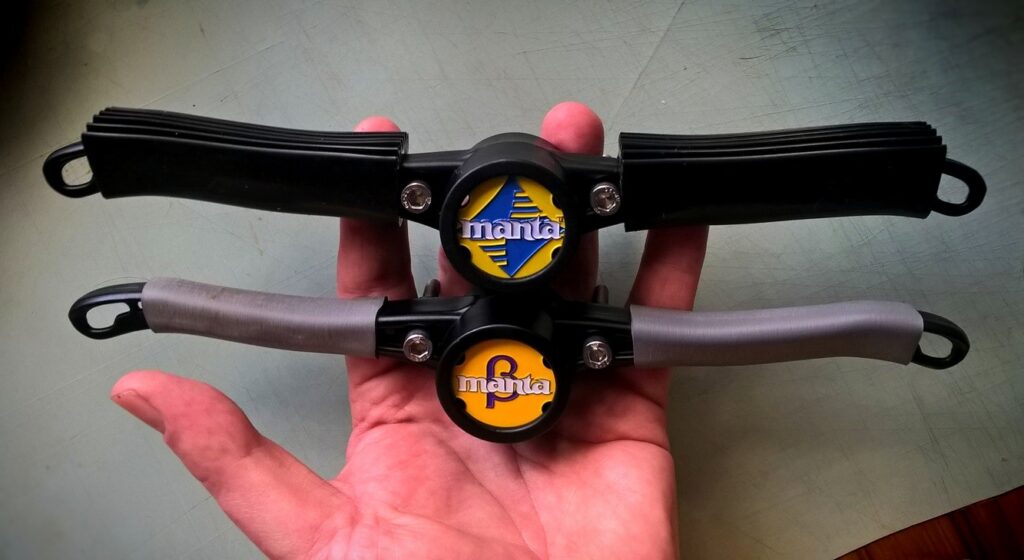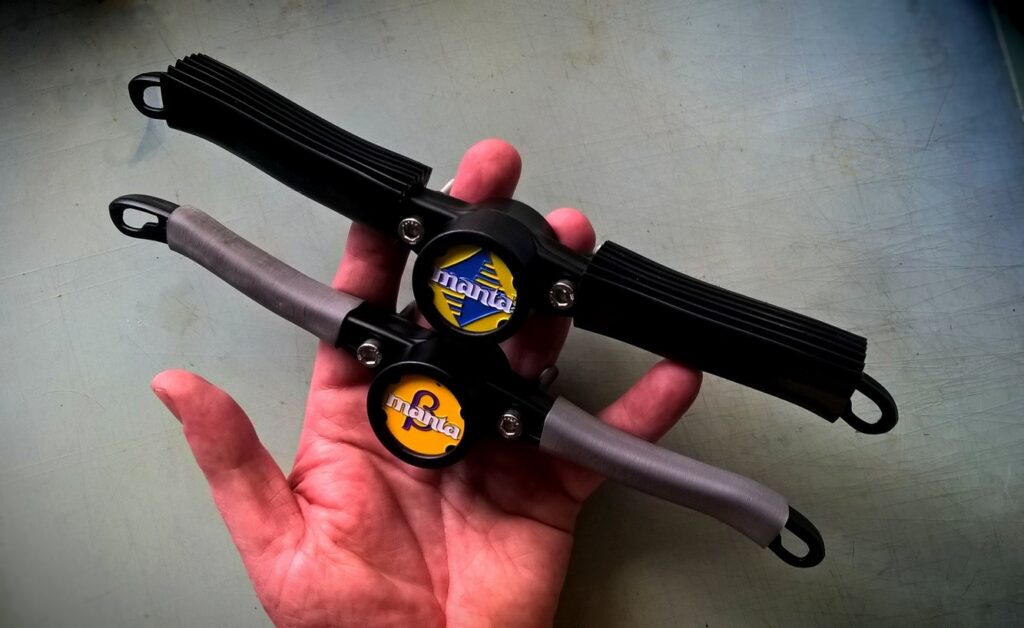 we think you get what you pay for
Support Innovators & Feed Product Development